Personal Parking Service at Manchester Airport
Providing a Meet and Greet Parking Service at Manchester Airport
LCS Manchester Meet and Greet are proud to provide that additional level of service and convenience to every customer, at the lowest price of any competitor out there. Our service guarantees that the start of your journey is as stress free as possible and extremely affordable.
To make this process even simpler, booking directly with LCS Manchester Meet and Greet online, using the secure booking system provided, this will ensures you of the best service with the lowest prices.
How does it work?
Directions: The specific meeting location will be confirmed with your chauffer and this will be relative to which terminal you arrive at Manchester airport.
Outbound Procedure: Please call your driver on the telephone number 07889706984 when you are around 15 to 20 minutes from arriving at Manchester airport to let them know when you are due to arrive, they will then meet you at your departure terminal and collect your vehicle.
Inbound Procedure: Please call your driver on the telephone number 07889706984 please note only when you have fully cleared customs with your baggage. You will then be met by one of our drivers who will return your vehicle to the specified terminal.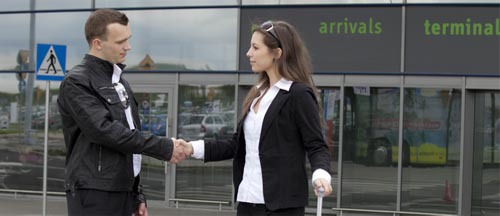 10 Reasons to choose LCS Manchester Meet and Greet
High Quality Recommended Service
Cheaper than most on-site parking
Removes the irritation of parking your vehicle, allowing you to go directly to the airport
You are met at the terminal by a chauffeur who takes your car to a secure parking facility
Your vehicle will be returned to you upon your arrival back at the airport
It can save you more than 30 minutes each way, making it a more efficient method of parking your vehicle
Ideal for those travelling with small children, women travelling alone and the elderly
No waiting on cold and crowded public transport
Allows you to go directly to check in, reducing overall queuing time
No stress, no hassle
Recommending LCS Meet and Greet
We constantly ask our clients to provide us honest feedback, about the professional meet and greet service that they have received. If you require any further information about our services viewing our recommendations on the dedicated reviews page is one of the best ways, here you can also leave a review if you have been the recipient of our meet and greet service. If you have any other enquiries about the service we offer, please do not hesitate to contact us using our email form or via the contact details provided.
Why not save time and money by getting a quote now with our secure online booking service.
LCS Manchester Meet and Greet
LCS Manchester provides Meet and Greet services also known Valet Parking to holiday makers and business travellers flying from all terminals at Manchester Airport. Established in 2008 the company operators have several years experience in the Airport Parking and Chauffeur Parking business.
LCS Manchester provides a quality Meet and Greet / Valet Parking service at all 3 Manchester Airport terminals. Great service at the best prices, suitable for both business and holiday travellers, ideal for families and is disable friendly, with 24 hour 365 day security for your vehicle.
The Chauffeur Meet and Greet service offers a little extra luxury where customers simply arrive at Manchester Airport terminal and the chauffeur driver will be waiting to drive your car to the secure parking compound near Manchester International Airport.
Typical prices - 7/8 day £30.00 and 14/15 day £50.00. Book Online.
Visit www.skyparkingservices.co.uk for Airport Parking, Lounges and Hotels at all other Major UK Airports.
Offering secure parking at Manchester International Airport we pride ourselves on the security of the offsite airport car parks used. Having cheap airport car parking should not mean there is a compromise on security. In fact, there is 24 hour active CCTV, patrolling security guards, high fencing and floodlights.
Park Mark - Safer Parking Scheme
What is the Safer Parking Scheme?
An Initiative of the Association of Chief Police Officers (ACPOs), aimed at reducing crime and the fear of crime in parking areas.
The Park Mark© Safer Parking award is granted to parking areas that have achieved the requirements of a risk assessment as conducted by the Police. These requirements means the parking operator has put in place measures that help to deter criminal activity and anti-social behaviour, thereby doing everything they can to prevent crime and reduce the fear of crime in their parking area.
For customers, using a Park Mark© Safer Parking area means that the area has been vetted by the Police and has measures in place in order to create a safe environment.
The tick and words 'Park Mark© Safer Parking' are ACPO trademarks.© BPA 2005